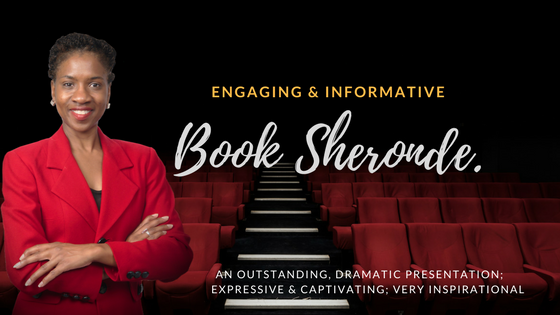 Trainer: High energy and enthusiastic, Sheronde engages audiences with her fun-filled, animated and unique brand of Southern edutainment (the ability to both entertain and educate). Armed with a diverse set of skills and a background in psychology, communications and education, Sheronde believes in sharing information that helps individuals get results. She provides interactive seminars and workshops using straightforward and realistic examples and experiences.
———————-
Training Available for: Conferences, Retreats, Business Meetings, Lunch & Learns, and Special Events.
Ideal for: Managers, CEO's, Entrepreneurs, Small Business Owners, Leaders, Women in Business, Business Women, Aspiring Entrepreneurs

Topics:  Marketing, Business Development, Professional Development, Entrepreneurship, Strategic Planning, Goal Setting
————————–
Training Workshops & Seminars:
⇒ Action & Accountability: 90 Days to Accelerating Your Ideas and Achieving More in Your Business
Developing your 90-Day Action Plan is the answer to the busy entrepreneur with too much to do and not enough time. This workshop is designed to help business owners and individuals narrow their focus and get closer to their vision, 90 days at a time.
Unlike some programs that get participants excited for the moment with little clarity on the "next step". Action & Accountability: 90 Days to Accelerating Your Ideas and Achieving More in Your Business guarantees participants know what to do when the workshop is over!
Using a simple, clear-cut process for putting together a short-term action plan, participants learn how to narrow their focus, stop recycling goals, decrease procrastination, build momentum, get out of "overwhelm, set S.M.A.R.T. goals and get closer to their vision using a 90-day action plan!
 Testimonial: Sheronde is a consummate professional! The tools she shared at a recent training, provide a TRUE step by step to accomplishing even the most (what could be perceived as) complicated goals! When the feeling comes (as it often does) I am more confident in my ability to shift out of overwhelm, at will!!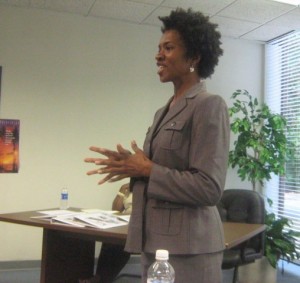 Objectives:
At the end of this workshop, participants will have the knowledge needed to develop an action plan and will understand:
How to stop recycling goals, build momentum and accomplish more.
How to work S.M.A.R.T. and set goals that align with their vision.
Why their "to-do" list isn't working and what to do about it.
How to significantly decrease procrastination and get out of "overwhelm.
The impact of short-term planning on productivity.
How to gain better clarity and focus.
Come to Win! Business Lessons from Tennis
Whether you're down 0-40 or up 5-2, Come to Win! Is about playing the game of business and life to win. Winning is all about staying on top, keeping a positive attitude, being in the right position, and staying prepared so you can make the point!
Sheronde, who is an avid tennis player and enthusiast, uses entertaining and real-life examples from her personal experiences both on and off the court.
Value to Audience:
Being in an extremely competitive playing field is not always the most innate environment, particularly for women, but tennis is a mental game and so is business.  Participants will learn strategies for how to maintain a winning attitude, even if they're feeling down and out. Participants will leave feeling more empowered to play THEIR game so they can make the point.  
⇒ Define, Shape, Execute! Strategic Action Planning for Overwhelmed Executives/Entrepreneurs (depending on audience).
Your ability to think strategically adds value to your business and organization.  This includes anticipating potential opportunities that can result in a greater impact for the individuals you serve and for your organization. Combine that with the need to effectively plan for the long-term. How do you do both? This seminar shows participants how to use strategic planning to build a strategy that supports their vision in alignment with day-to-day activities, how to think beyond tomorrow, take a look at the strategic planning process, and incorporate both strategic thinking and planning throughout their organization.
Sample Content Excerpt

⇒ Strategic Execution: How to Accelerate Your Ideas and Get Stuff Done!
Entrepreneurs and business owners have a ton of ideas that will grow their business, bring revenue and build their brand. There's just one problem, getting those ideas off the ground. Why is that? This workshop gets to the heart of the challenges businesses face with execution and some strategies and techniques to focus, clarify and prioritize to get the pertinent things done.
⇒ Push the Limits! Be Extreme & Build the Endurance to Excel at the Marathon of Business. 
What drives you to do something you've never done before . . .Challenge yourself to run a marathon? Start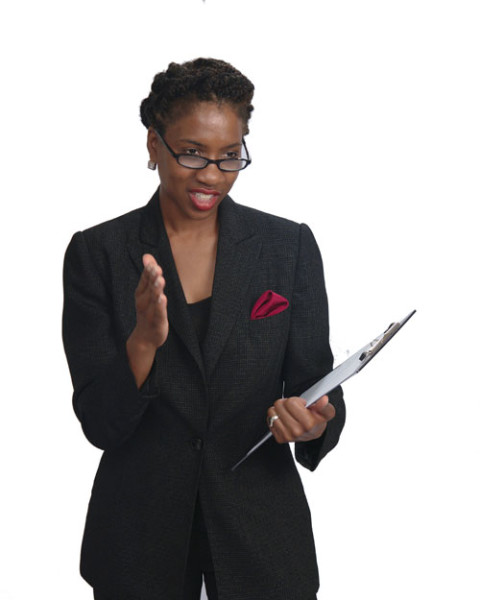 a business against unbelievable odds? Change careers? Risk losing it all to accomplish an unimaginable task? Your quest to push the limits!
Conquering the extreme, physical endurance, enthusiasm, personal sabotage, lack of desire, going the extra mile, boredom, structural breakdowns and loss of self are all elements and indicators of pushing the limits. Sharing her experience on her quest to run her first half marathon, Sheronde helps business audiences understand:
– What it means to prepare for and take on the extreme
– The significance of Milestones
– How we unknowingly sabotage ourselves
– How to build endurance, both physically and mentally
WOMEN SPECIFIC
⇒Bold, Balanced Business: How to Take Control and Take Care of Yourself in the Process.
This presentation is for the woman that wants to do it all and may be neglecting some things in the process! Sheronde shares her journey of moving from the nose-grinding, type A nothing-but-business approach she's always known to becoming a more balanced and relaxed individual that can now appreciate an early morning walk and the tranquility of yoga and meditation, giving women the tools and resources to not only take control but take care themselves as well.
Additional Workshops:
⇒Brand Marketing for Positive Impact!
⇒PR for Small Business
⇒How to Write a Successful Business Plan