Getting Your Staff on the Same Page, Productive and Motivated can be difficult sometimes, but not with the
90 Day Business
Accelerator

Challenge.
We'll help your team
reach NEW Goals, become more efficient and
make a bigger IMPACT In Your BUSINESS.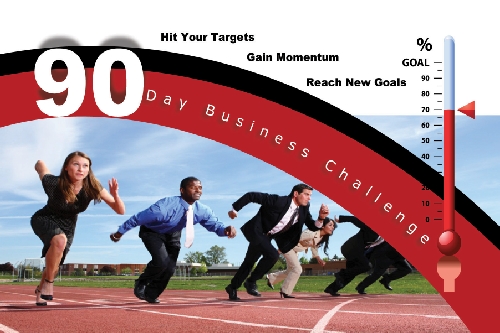 ———–




——-

—————-
———————
 The 90 Day Business Accelerator Challenge is a
FUN, COMPETITIVE WAY for small teams or departments to work collectively towards both individual and company goals.
Motivate, Inspire, and Challenge YOUR staff or team




to accomplish more


while improving operations, productivity, clarity, resource development and more.

——————————————————-
Here's how it works:




———————-
During the 90 Day Business Accelerator Challenge, your team will work with a
BUSINESS COACH to help them become more
purposeful, productive and profitable

.
Each TEAM member will build out an

ACTION PLAN

that helps them align their individual assets with the overall goals and objectives for the company and their department.
TEAM MEMBERS BECOME MORE MOTIVATED AND FOCUSED
WITH THE SUPPORT OF AN
ACCOUNTABILITY COACH.
---
EACH WEEK BUILDS UPON THE OTHER WITH GUIDANCE AND DIRECTION,
SELF-ASSESSMENTS, RESOURCES, AND TOOLS THAT HELP YOUR MOST VALUABLE ASSETS ALIGN WITH THE COMPANY/DEPARTMENT VISION & OBJECTIVES.
---
TEAM MEMBERS COMPETE AGAINST EACH OTHER AND THEMSELVES MAKING THE CHALLENGE

A FUN AND EFFECTIVE WAY TO INCREASE PERFORMANCE.
---
THE  CHALLENGE


is designed to help teams be more engaged and productive. 
---
 The Cost of The Challenge is $97 per person/per month
(for 3 months with a minimum of 4 participants per organization)
The 90 Day Business Accelerator Challenge provides
participants with clarity and focus.
---



INTERESTED in LEARNING MORE?