Write Your BUSINESS PLAN in
14 Days


using the Business Plan Blueprint!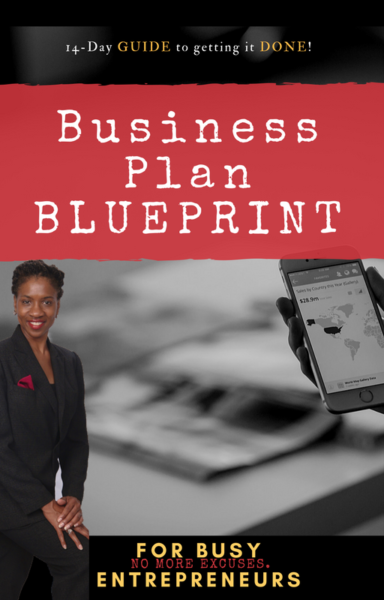 Dear Future Entrepreneur,
Are you tired of feeling overwhelmed and frustrated thinking about writing your business plan?

Are you wondering how in the world you will ever write a compelling, comprehensive business plan that outlines that terrific idea you have?

---

 Don't Worry. I've got you covered.
I'm Sheronde Glover and I'll be your
BUSINESS COACH

for the next 14 days.
I want you to get past  
THINKING

 about writing your business plan and

GET IT DONE

, without the struggle.
I want you to know that it's
NOT

nearly as hard and overwhelming as you think it is.
So Get READY

. It's Time.
---
Here's how you're going to do it:
I created this
easy

,

step-by-step

, 14-day blueprint with YOU in mind.
I know you're busy that's why you and I are going to get this done in as little as 14 days. Yes, you heard me — 14 days, that's two weeks, just about the time you'd spend on a vacation. And I'm going to make it so easy you'll feel like you're on a vacation. Well, not really, but hey, you can't have everything.
3

Reasons You Need to Get it Done Now:
You're committed to the entrepreneur journey and you know you NEED a plan to be successful.
You're tired of procrastinating and making excuses.
You're ready to check this off of your to-do list.
If you are:
If you're the type that has a get-it-done mantra and is not afraid to roll up your sleeves and grind-it-it for the next two weeks, then go ahead and grab the offer below.
Are you with me? 
---
HERE'S THE OFFER:
Grab your step-by-step 14-DAY

BUSINESS PLAN 
BLUEPRINT


FOR
 $47.50.
(Psst – I usually sell this for

$97

and it's valued at twice that.)

Here's what it includes: 
Ready-to-Go Templates… We've already created the templates for you so all you have to do is modify them to fit your specific needs.

4 Easy to Follow Videos Addressing Individual Business Components that help you understand how to put all your thoughts, ideas, and concepts together in a structured document that tells your compelling business story.

14-Day Daily Plan…. Step-by-step daily plan with easy to follow instructions that allow you to begin wherever you are and progress at your own pace. And you know exactly what to do each and every day. It's that easy!

Resource Guide… we've done all the research for you and compiled the resources you need to do the work and get your plan done, even if you haven't gotten started yet!
It's EASY. It's Straight Forward. It's Manageable. And it's about time you GET THIS DONE! 
It's the exact process and guide that I use to write BUSINESS PLANS, except I charge hundreds and thousands of dollars to do it for you.  Why pay me or anyone else to write your plan when you can do it yourself?
Are you ready to write that plan? Then Let's Get Started! 

So Go Ahead, CLICK the

BUTTON

BELOW and Get started. 
NO MORE EXCUSES!